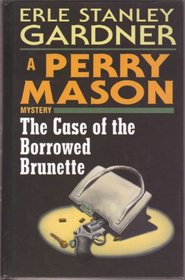 The 28th Perry Mason novel was published in 1946. Shortages of housing and consumer products suggest a post-WWII setting as does the tough road of women trying to make it in a man's world. For instance, Helen Reedley is trying to get out of a marriage in which her husband holds the economic whip hand besides being a domineering oaf. Also, working girl Eva Martell, to make a few bucks and get noticed in Hollywood, accepts a job in which she has to impersonate another woman. Worried that she may be placed in vulnerable legal position, she and her chaperone Adelle Winters consult crack attorney Perry Mason.
The usual inevitabilities arise. A dodgy gambler turned blackmailer is found with a bullet betwixt his eyes. The cops want to pin the killing on Eva and Adelle just because they have an eyewitness report that Adelle put her gun – the murder gun – in a garbage pail. The DA's hatchet man is out to cut Mason down to size on legal technicalities and secure the flamboyant lawyer's disbarment. The outcome hinges on a determination of when the crime was in fact committed, not when it seems to have been committed.
But Gardner departs from the norm aplenty. Unexpectedly, familiar characters such as Della Street, Lt. Tragg, and DA Ham Burger don't play big roles. But there are many more suspects than the usual three or four, all of whom have cool retro names: Orville L. Reedley, Cora Felton, Daphne Gridley, Carlotta Tipton, and Arthur Clovis. Mason and his PI Paul Drake have extensive and complicated conversations exonerating the persons of interest.
Despite a lot of talking, this novel is one of the more exciting and riveting outings purely on the basis of rational thinking. I mean, enthralling given the reader accepts the initial premise of the impersonation, which, to my mind, often does not come off as convincing in whodunnits.