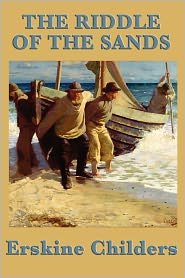 This early 20th century spy thriller starts with Charles Carruthers plodding away in the British Foreign Office, marking time on dull reports and doing the social whirl at balls and dinners. For a change, he accepts an offer of a vacation from an old Oxford buddy, Arthur Davies. The stolid quiet Davies proposes duck shooting in the East Frisian Islands on his yacht the Dulcibella. In fact, to make up for being turned down by the Royal Navy, Davies has taken to freelance espionage. He is investigating German plans to invade that royal throne of kings, that sceptered isle.
Though raised near Great Lakes, having lived on an island for six years, and living now in a place ridden by lake effect snow, I'm not really a water guy. I just read lots of nautical stories, in memoirs, serious fiction, mysteries and thrillers. In this novel, the technical information about navigation, sailing and naval dispositions is balanced by expressive narrative like this:
… A sort of buoyant fatalism possessed me as I finished my notes and pored over the stove. It upheld me, too, when I went on deck and watched the 'pretty beat', whose prettiness was mainly due to the crowd of fog-bound shipping—steamers, smacks, and sailing-vessels—now once more on the move in the confined fairway of the fiord, their baleful eyes of red, green, or yellow, opening and shutting, brightening and fading; while shore-lights and anchor-lights added to my bewilderment, and a throbbing of screws filled the air like the distant roar of London streets. In fact, every time we spun round for our dart across the fiord I felt like a rustic matron gathering her skirts for the transit of the Strand on a busy night. Davies, however, was the street arab who zigzags under the horses' feet unscathed; and all the time he discoursed placidly on the simplicity and safety of night-sailing if only you are careful, obeying rules, and burnt good lights. As we were nearing the hot glow in the sky that denoted Kiel we passed a huge scintillating bulk moored in mid-stream. 'Warships,' he murmured, ecstatically.
That second 80-word sentence is, well, something, though the ~ing verbs make movement, sights, and sounds realistic and vivid.
Historians tell us that the book was a best-seller when it was published. Public outcry stirred by the book was such that the UK shored up its coastal defense system. Critics say the book was an influence on John Buchan, whose man-child hero Richard Hannay calls to mind Davies in this one. This was Childers' only novel. He became a stringent Irish Nationalist (his mother was Irish) and had an unfortunate end after the Great War. His son was President of Ireland in the early Seventies.