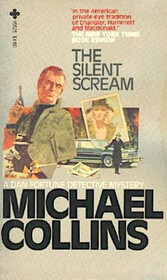 The hard-boiled mystery from 1973 is the sixth appearance of the series hero Dan Fortune, one-armed Polish-Lithuanian private eye. Fortune is hired by a young but imperious Mia Morgan to identify a pretty woman in a snapshot she hands him on their first meeting.
Fortune identifies the woman easily.
And then finds himself in a situation involving multiple murders, an Israeli commando, New England aristocrats, and Mafia bigwigs and hoods. The economical characterization is well-done. The convincing settings include Chelsea in New York City and working class Somerville in Jersey, in the gritty old days before US manufacturers realized the Japanese had to be dealt with. Like Ross Macdonald did in the Lew Archer novels, Collins deals with adult themes such as troubled families, the risks of power for the power-seeking, and the pitfalls of making wealth and status higher priorities than self-respect and kindness. Like the whodunnits of the 1930s, surprisingly, one killing is of the closed-room variety, featuring an intricate means of murder on the part of the culprit.
Though there's lots of smoking – it is 1973, after all – Collins never preaches, the language is clean, the action lingers not on violence, and there's no panting or throbbing. Nor is it too long. I highly recommend this example of old-school hard-boiled detective fiction.
Michael Collins was the pen-name of Dennis Lynds. Under various other names, Lynds wrote 80 novels and a couple hundred short stories. His first novel Combat Soldier (published under his own name) was a fictionalized memoir of his own WWII experience as an infantry rifleman.