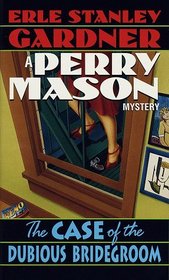 Mysteries in the Perry Mason series often start with a bang. In this 1949 outing, while working late in his office, Mason spies pair of shapely gams on the fire escape. When Mason queries her as to what she's up to, the beauty says she works upstairs for a company in the extraction industry. Mason notes she's carrying something that metallically glints, which she tosses away, saying it was a flashlight.
He wants to confirm her identity by checking out her car registration, but out on the street she smacks him, making onlookers think she's a pretty baa-lamb fending off a wolf. In celeb-addled LA, this spectacle is noted and thus appears in the gossip column in the paper the next morning. His secretary Della Street rags Perry about the next morning.
But things get complicated mighty quick when Perry finds himself enmeshed in a case that involves two convoluted situations. One is bigamy involving a Mexican divorce that may or may not be legal. The other is a proxy fight looming at a stockholders meeting.
As usual, Gardner paints an unflattering portrait of the guardians of our criminal justice system. The cops arrest their person of interest by using trickery. At the trial two bumbling prosecutors are more intent on puffing themselves up by making Perry look bad than on building a strong case. They are helped out by Perry's client, who lies to Perry about his movements on the night of the killing. The reliable lesson we regular folks can draw out of Mason mysteries is never lie to your lawyer.
A good, not great, Mason mystery redeemed by a rocker of an ending.
Tags: Book Recommendations, Book Reviews, Book Suggestions, Mystery