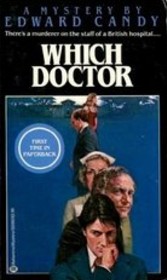 The story of this 1954 mystery revolves around the kidnapping of a nine-year-old boy who witnessed the grisly murder of a disliked pediatrician. It is set in the early 1950s in the English Midlands at the fictional Bantwich-Bannister Hospital for Children, "The Fairy Land for Sick Children." Professor and Doctor Fabian Honeychurch, in keeping with his robust name, is a combination of Falstaff and Santa Claus who is visiting the hospital for a conference. He teams up with explosive London cockney Inspector Burnivel from Scotland Yard to unpack the mystery of which doctor dunnit.
Red herrings abound in this relatively short novel. We meet the tried and true devices such as the seemingly obvious culprit, adultery ending in a seemingly apparent suicide, the seemingly friendly and open American. To balance improbabilities in the plot, the professional rivalries and jealousies feel familiar to any reader who's been paid to smooth administrative skids for brilliant but flawed professionals and scholars. Plus, the drug trial involving children will engage readers into the regulatory protections of human subjects in research (I know – all two of them and one of them is me).
I recommend this one. Like Edmund Crispin but not as silly, more like a lighter P.D. James (given the medical settings), if that can be imagined. Although it is short on action, Tom the nine-year-old isn't in it much, and Honeychurch holds forth too much, the red herrings are diverse, and the language is pleasingly Dickensian. For instance, perfectionist Professor Pemberton reports the murder to the cops thusly:
One of my staff has been found dead in the grounds. He has been struck on the back of the head. …. I'd be grateful if you'd make your arrival as inconspicuous as possible. We've an important meeting here today. I shouldn't like any fuss.
Edward Candy was the pseudonym of Barbara Alison Neville (1925-1993). She was born in London and educated in Hampstead and University College, and later earned a medical degree. She practiced medicine and had a family of five children while writing about a dozen books, three of which are medical mysteries, besides this one, Bones of Contention and Words for Murder, Perhaps.