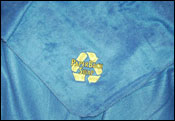 The Fleece blankets have been very popular! We knew that you would love them as much as we do. Come take a look in the PBS Store—we are restocking all the time. We have had to discontinue the Violet Moire BookMates, although they were extremely popular—the manufacturer can no longer get that color vinyl—but we have some BookMate I's left in this color (sorry, no BookMate II's are left in Violet Moire). If you want one, get it before someone else does! All of the other colors and patterns are available. And remember, giftwrapping (in conjunction with direct-mailing to your chosen recipient) will be FREE during the holiday season on selected items from the PBS Store—you can include a card with your giftwrapped BookMate, so that when the package arrives, your lucky bookloving recipient knows that you were thinking of him or her.
Give yourself a gift! You know the holiday shopping trips that go, "one for you, one for me…"? Well, PBS referrals are like that—they are the FREE gift that keeps on giving. You get a credit when you refer a friend who becomes an active member of the club, and that member gets 3 "start-up" credits when she or he posts the first 9 books.

New members bring new books to the club for everyone to share. See the "Spread the Word" page (accessible from the left-hand menu of every page on the site) for all the ways in which you can refer others to the club. You can send a gift certificate (by email, or print it out and present it) to a friend, and get them started with credits right away! Gift certificates are, as always, available in the PBS Kiosk.
Tags: PBS Kiosk