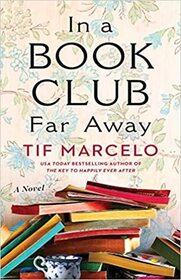 Review by Mirah W. (
mwelday
)
As a Navy spouse who has dealt with moving every couple of years, making friends in new locations, and being a member of various book clubs, this book called to me. In a Book Club Far Away centers on the lives of three friends: Regina, Sophie, and Adelaide.  While stationed at Fort Fairfax, they become incredibly close and help each other through deployments and personal challenges.  When a secret is exposed, there is a fracture in the friendship and their trust in one another is broken.  Adelaide needs Sophie and Regina years later when she faces a medical emergency and emotions and hurt come back to the surface when they are all together again.
When I started reading, I was immediately pulled in and enjoyed the pace of the novel; however, about half way through, I felt the pace slowed and found myself drifting.  The author differentiates between the characters very quickly, which I liked. I felt I understood their differences and also what brought them together. However, it seemed things stalled as the author delivered the background of why their friendship initially broke down years before the current events that have brought them back together. I liked this book and the references to other books in popular culture, but I wish the momentum would have carried all the way through and that the ending didn't feel quite so rushed.
In terms of my connection with the characters, I understood their feeling of distance when getting to know new people.  As a military spouse, this has been my struggle for many years.  As a more introverted person, connecting with others at each duty station is a real challenge. I felt Marcelo adequately expressed that, but I thought it could have gone deeper and avoided some of the stereotypes of what it means to be a military service member or spouse.
I read Marcelo's novel over two weekends and I was interested in the characters and what the outcome would be. I am giving In a Book Club Far Away 3.5 stars for readability and character development, but I felt the pacing and lack of military stereotypes would have helped bump up my rating.