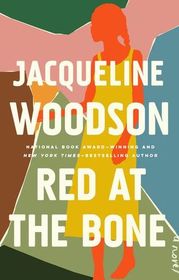 Review by Mirah W (
mwelday
)
Red at the Bone is my first experience with author Jacqueline Woodson.  While the format isn't what I typically gravitate to, I found the novel to be almost lyrical, as if I was reading music instead of a book.  Red at the Bone opens at Melody's coming out party for her sixteenth birthday. The dress she is wearing is one that was meant for her own mother's sixteenth coming out party, but it was never worn. Woodson moves the reader back and forth through time, giving us the full story of Melody's background by revealing the rise and fall of her parents' relationship and Melody's own relationship with each of her parents.
Told through multi-character perspectives, the reader sees how a teenage pregnancy impacts different generations of different families.  But Woodson takes the story deeper; there are socioeconomic, racial, familial, and cultural forces at work.  How do all of these forces affect the choices that people make and how does it shape us into the people we become? There are so many competing elements in our lives that it can be difficult to block out the 'noise' and think about who we really are and what we think our place is in the world. I think Woodson delves into this journey of self-exploration and self-identity that we all experience at some point in our lives.
As I mentioned at the start, this is my first experience reading a book by this author.  Even though it was structurally different than what I usually enjoy, I found myself engrossed quickly and read it through on a quiet Sunday. I give Red at the Bone 4 stars for being well-written and interesting, carefully blending different character experiences into a strong plot.