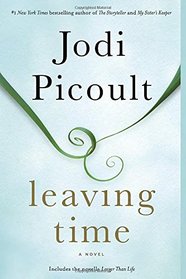 Review by Mirah W. (
mwelday
)
I have long been a fan of Jodi Picoult. Her take on current social and ethical dilemmas make for heartbreaking and heartwarming fiction. I recently read Leaving Time and I was, once again, struck by Picoult's ability to create a story that captivated me.
Jenna has been searching for her mother Alice for years. Alice was an elephant researcher and disappeared in the wake of a tragic and mysterious event at the elephant sanctuary where she worked. Jenna joins online chat groups and forums and searches Alice's journals for any clues to explain her disappearance. Jenna refuses to believe her mother would abandon her without a word.
On Jenna's journey for the truth she joins forces with two others: Serenity, a psychic, and Virgil, a private detective. The three of them slowly pull back the layers of family drama that led to the tragic event leading to Alice's disappearance. But in true Picoult form, when the truth is revealed I was left stunned with the outcome and precision and depth of the story.
It's been a while since I've read a Picoult novel and this was just the right one to reintroduce me to one of my favorite writers. Complex relationships and grief impact each of the characters in compelling ways and I found Leaving Time a truly enjoyable read. I give Leaving Time 5 out of 5 stars for heart, emotion, and imaginative story-line.
Tags: book recommendation, book review, elephants, Fiction, general fiction