Share and Share alike.
<—Those icons are now at the top of every page, under the blue banner.  They allow you to tweet a link, send a link in an email, display a book listing on facebook or myspace…or a ton of other options.  Wanna tell everyone on facebook what you're currently reading?  Click the icon when you're on the Book Details page for that book, choose Facebook, type in a comment if you want, and boom!  it goes onto your facebook page.  Tell people what books you've mailed out, what books you're wishing for…whatever you want to share.
Try it…you'll like it. Don't forget that if you have never used PBS-DC before, you have 3 free trials of the feature!  The 19-cent USPS e-DC fee still applies (you pay that with extra postage applied to the package) but the 27-cent PBS fee is waived for three separate shipments if you want to try this out.  PBS Delivery Confirmation comes with Quick Credit (and with Guaranteed Credit for accounts with good sending records).  To try this out, choose "Print with Delivery Confirmation alone" (the middle option on the Wrapper Settings page) and your wrapper will print out with a DC barcode. The offer is good until October 24th. You can read more about PBS-DC here, in the Help Center. Printable Postage is not included in this offer –it's just for PBS-DC.
PBS Store News:  PBS Cookbook final proof has been approved and printing is in process  – Members have been flipping over the BookFlips (get 'em while we still have 'em!) –  and now that cooler weather is on the way, it may be time for a cozy PBS sweatshirt.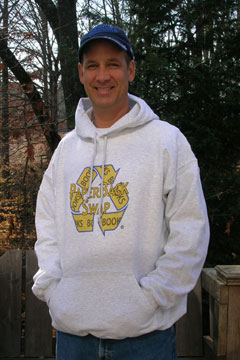 Richard wearing his awesome PBS Sweatshirt.
APO/FPO/DPO members: For those of you at military/diplomatic addresses, you know that you have had to use the mandatory Requestor Conditions (RCs) on your accounts.  But what about the requests to APO/FPO/DPO addresses that are submitted by stateside members?  We have changed things so that if a request is submitted to be sent to an APO/FPO or DPO address, the Requestor Conditions will be applied automatically.  If you have other text in your Requestor Conditions, that will be included – it will appear above the mandatory PBS text on the request.  You can read the text for the mandatory PBS APO/FPO/DPO RCs at the bottom of the Help doc here.
Be a card-carrying member… of all three sites!  The Omni Business Card is hot off the presses: it can be customized with your name (you can choose NOT to show your name!), nickname, join date – as you like.  It's a great way to refer new people to all three clubs and get referral credit!  You can download and print these for free from the Spread the Word page.  Check out the PBS business cards, bookmarks and flyers also available for download from that page, under Community at the top of any page on the site.