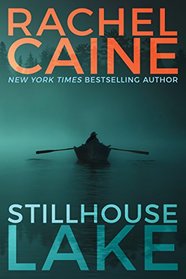 Review by Cyndi J. (
cyndij
)
STILLHOUSE LAKE by Rachel Caine is the first in a thriller series featuring Gwen Proctor. She used to be Gina Royal, until she and the rest of the world discovered her husband was a serial killer.  He was arrested, convicted, and sent to death row, but Gwen and her two kids got a life sentence of running from his fans and foes alike.  Quite a number of people are convinced that she must have known and helped him in his sadistic killings. The depths to which internet stalkers will go is incredibly creepy and sadly sounds too, too authentic.
Gwen's found a suspiciously affordable house near Stillhouse Lake, a place that used to be something of a resort community but has fallen on hard times.  Gwen's paranoia is off the charts but this place really seems to be somewhere they can settle for a while. The two teens are predictably damaged by what's happened, but they are aware of how careful they need to be. But now they have a couple friends, Gwen has a neighbor who seems trustworthy – it can't mean much if they slip up once in a while, right?
Then a body turns up in the lake, a girl who's been killed in a fashion not unlike what Gwen's ex used to do. The police investigate and slowly their suspicions start to coalesce around Gwen.  Gwen knows she didn't do it, so who did?  Gwen is getting letters from her ex – awful letters – and the latest one has a reference that tells Gwen he knows exactly where they are. She's been so careful, how could this possibly happen?
This is a fast-paced, very creepy thriller but fair warning – while the main plot is resolved, a new development means it ends on a bit of a cliffhanger.  Lots of tense atmosphere, good dialogue, lots of suspects. Also some gory detail about women being killed if you're sensitive to that.  While it didn't spoil the suspense for me,  if you are a frequent mystery/thriller reader you'll probably figure out the identities of the bad guys right away.
Caine does a great job making us empathize with Gwen.  I felt really bad for her and her kids. How could they ever have anything approaching a normal life? How could you come to grips with what happened, and how could the kids grow up and move on? Then I discovered there are multiple sequels and it looks like trouble just keeps finding them. I enjoyed this book a lot, but I empathized too much with the characters – I can't bear to put myself into their places for another 4 novels so I'm stopping here. And that's fine.  If you like a nice tense, suspense-filled story with a fierce female protagonist, this fits the bill.