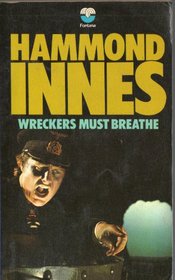 I detest spoilers so I find it hard to discuss this World War II adventure story without giving any of the surprises away.
I will satisfy myself by observing that the thriller opens with drama critic Walter Craig on a beach vacation, perhaps, he feels, his last for a long while because of German mobilization on the continent. Cruising in a chartered fishing boat captained by Big Logan, Craig is yanked overboard by a huge black shape. Later on a walk Craig has an encounter with a stiff strict guy who speaks English a little too precisely. Soon enough, Craig and Big Logan find out they must do their bit to foil Nazi plans to attack a rendezvous of Royal Navy ships in the North Sea.
I like old thrillers because Innes creates plausible characters who are human beings, not Men of Steel like Jack Reacher. To his credit, Innes varies the narrative voices with the dispatches of Maureen Weston, a tough Irishwoman and journalist colleague of Craig. Big Logan is a great sidekick, strong, brave, and smart. Because this was written early on in the war in 1940, Innes persuasively conveys the atmosphere of the UK on the brink of war. People know that war with Hitlerism is inevitable, but they still feel a chill once war is declared.
Innes is skillful in ratcheting up tension. Some of the tropes used convince us readers that Innes must have read Conan Doyle and H.G. Wells in his younger days. In his own time Innes worked the action thriller patch along with Geoffrey Household, Victor Canning, and Alistair MacLean. In our era similar writers are James Rollins and Clive Cussler. A reader looking a cracking WWII era thriller won't go wrong with this one.