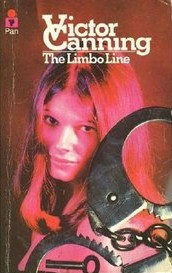 This 1963 thriller combines an adventure yarn with a Cold War spy story. Readers that enjoyed Greenmantle by John Buchan or Conan Doyle's Brigadier Gerard stories would probably like this tale.
Richard Manston, retired spy, lives in the English countryside as a gentleman farmer. His ex-spy master Ronnie Sutcliffe tempts him back into the Great Game with the chance to foil a fiendish Soviet plot.
The Soviet trade agency is acting as the façade for aa operation that kidnaps and brainwashes Russian defectors. The victims are then trafficked back to the People's Paradise. They are forced to tour, lecturing about how they were duped into defecting and how unjust life is in the decadent West.
Sutcliffe's joes have marked down Irina Tovskaya, a ballet dancer, as the next likely victim. Manston's mission is use Irina as a lure to attract the attention of the Soviet thugs. Then, once they've snatched Irina, Manston is to follow them in order to identify the line of safe houses – the Limbo Line – back to the Eastern bloc.
Manston does his damnedest to keep things professional but he falls for Irina anyway. The chase leads to the countryside of France, the setting for an exciting climax with all the right elements: heartless henchmen, evildoing communists, a damsel in distress, and lots of original action sequences in curious settings.
Besides the intelligent writing we like to see in James Bond stories for adults, Canning could put across great characters. The bad guys are utterly believable as capable professionals who would be likeable even admirable were it not for their soulless and inhuman cause. The oppressors stand in contrast to Manston, whose cause is Irina. As somebody once said in a James Bond novel, "People are easier to fight for than principles. So surround yourself with human beings."
Victor Canning was an extremely prolific writer who was considered in the same ranks as Desmond Bagley, Hammond Innes, Geoffrey Household, and Manning Coles. His masterpiece The Rainbird Pattern was awarded the CWA Silver Dagger in 1973 and nominated for an Edgar award in 1974.