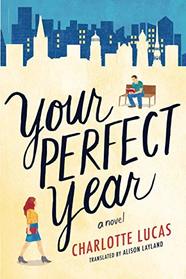 Your Perfect Year
by Charlotte Lucas (translated by Alison Layland)
Review by Mirah W (
mwelday
)
I recently received news that would impact my career and I was feeling a bit discombobulated. It wasn't news I was wanting, and I found myself going through the stages of grief over the change…and not necessarily in the correct order. I was angry one day, in denial the next, just all over the place.  I went to find a book that I thought could give me a new perspective on things.  I found Your Perfect Year.
A bestseller in Germany, Your Perfect Year is about how we can get so stuck in our routines and expectations that we fail to see what is happening around us.  Jonathan has been living a regimented existence without any joy. Hannah has been thrown for a loop with her boyfriend's recent decisions.
One day during a punctual and structured outing, Jonathan finds a daily planner complete with activities for every day of the next year.  Why was this diary left for him?  And how can a diary written for someone else really make a difference to him?  Jonathan tries to find the real owner of the diary but when he finally admits to himself that maybe he needs some change in his own life, he decides to embark on a new life using this diary as a guide.
I am giving Your Perfect Year 3 out of 5 stars for 'I liked it'. I found the characters a bit difficult to connect with, but the storyline was a good one. I am not sure how much of my lack of 'spark' was a translation issue (originally written in German) or a story/character development one, but I still liked the book and the overall theme.  Sometimes life deals us uncertainty and confusion and how we react can truly change our lives. This was the message I needed during my own time of confusion and frustration with the changes being thrown my way. If you're in the same boat, go on this adventure with Jonathan and see the difference an open mind can make.